The game of golf has many facets which make learning all the skills a great challenge. To learn golf with a playing lesson on the course is a great way to improve your understanding of the finer points of the game and how to evaluate and execute shots from direct, on-course experience gained with your Pro. Talk with him, ask away and gain the thinking a Pro has about the actual playing of the game.
Key benefits of Playing with Your Pro:
Understanding Course Management & Course Conditions
Shot Evaluation and Club Selection
Success with Rough, Uphill, Downhill & Tight Lies
Playing and the Art of Scoring
The Physical and Mental Game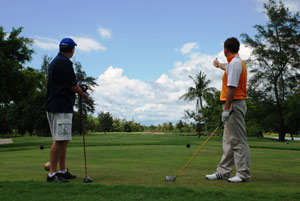 9 Holes "Play & Learn" Golf package. Group Package Discounts available
18 Holes "Play & Learn" Golf Package. Group Package Discount available.
Contact Us Now for price and availability with the Pro
marketing@golfacademyborneo.com
.